WALKING 'HOME'
~On the Camino de Santiago Portuguese Way~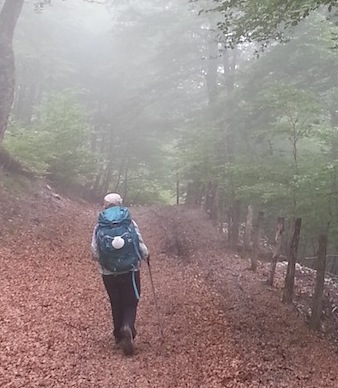 With Junia Imel
I first heard about the Camino de Santiago in the summer of 2002 when I was walking the Black Forest in Germany. On July 25th, my friends and I came across a pilgrimage-in-progress on the trail. During our walk, we had not seen but 1-2 people each day, so we were intrigued when we came across 100s of people in a space of a mile.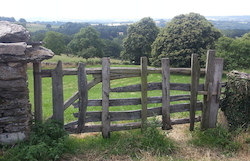 As we opened a gate to pass through a farmers land, the family was preparing for a huge picnic. We politely tiptoed through their property silently wishing to be invited since the smells were tantalizing! On the other side of their property, we sat down to enjoy our sack lunch and watch the people gather for the party. So fascinated, we stopped a group coming towards us to inquire. That was a life changing moment for me!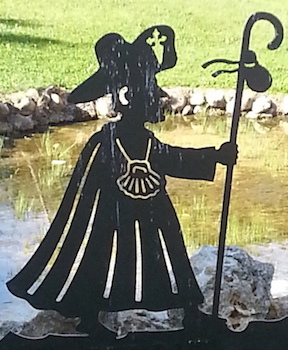 Little did we know that July 25th is St James Day and that we were on part of the original Camino - the Way of St James - the route he followed as he crossed Europe from Jerusalem to Santiago, Spain. On this day, pilgrims were walking to the small Chapel of St James located deep in the forest in order to pay homage to this patron saint. And as in ancient times, the feast was a celebration for the pilgrims' return.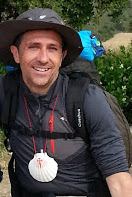 One of the gentlemen in the group spoke a bit of English and explained to us the meaning of this journey and enthusiastically shared that his friend, the man with the scallop shell around his neck, actually had walked the entire Camino across France and Spain earning his Compostela. You could tell he was very proud of his friend's accomplishment. As they joined the celebration, we continued on our way with humbleness and purpose, now very aware of the scallop shells marking our path.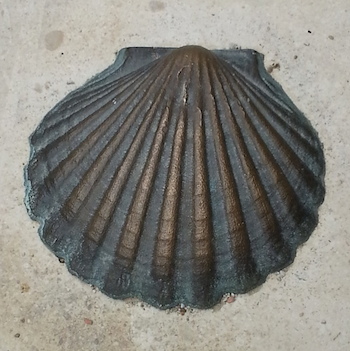 This memory subtly lived in my subconscious mind until finally it got so loud that I could not refuse the call. I had only been called this way one other time in my life when I was called to Peru in 2006-07. I learned at that time, not to question WHY, just go. This is my Soul calling and it does not understand all the human excuses and fears for not following!
So, in 2014 just a couple of days before St James Day twelve years later, I walked into Santiago de Compostela completing my first (but not last) Camino de Santiago.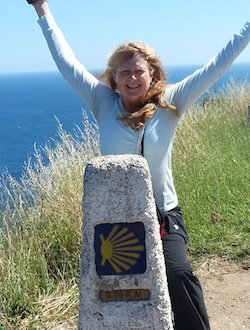 There are no words to describe the feelings and emotions that overwhelmed me that day. It was a journey home! To fully walk into my heart and soul and allowing my authentic self to shine!
I learned early on the trail that people walk for various reasons. Even though the Camino is known for its religious roots, it is not only a religious pilgrimage, but a unique pilgrimage for each soul. In fact, as one wise person noted: "Somewhere between the start of the trail and the end is the mystery why we choose to walk. To find the mystery, you must walk the trail." (Unknown) As we all know,"the journey of a thousand miles begins with one step" (Lao tsu) with "the longest journey ... the journey inward." (Dag Hammarskjold)
Are you willing to walk through your fears and join this journey to meet your soul?
Walk with us September 20-30, 2015!