Uniting Heaven & Earth
May 6-17, 2018
The Way of Mary Magdalen
Oct 1-9+, 2017
The Many Vibrant Faces of India
Jan 3-20, 2017
Energizing Your Soul in Peru
Sept 17-30, 2016
Journey into the Heart of Peru
Aug 30-Sept 11, 2016
A Journey into the Mother
Aug 23-31, 2016
Walking Home on the Camino
Sept 20-30, 2015
Communing With the Cosmos in Peru
May 6–17, 2014
Ancient Mysticism of India
January 15–30, 2014
The "REAL" Peru
September 6–20, 2013
Pilgrimage to Mexico
March 20–28, 2013
Awakening to Joy Tour
July 18-30, 2012
Awakening to Joy Tour
Pre-Extension:
Jungles of Peru
July 13-18, 2012
Return to Joy Tour
Nov. 29 - Dec. 9, 2011
Lake Titicaca, Peru
Ascension of the Light Tour
September 16-26, 2011
Lake Titicaca, Peru
Journey to the Crystal City
September 26-30, 2011
Machu Picchu & the Sacred Valley, Peru
(Stand alone or extension to Ascension of the Light Tour)
Andean Awakening Tour
May 9-21, 2011
Machu Picchu, Sacred Valley
& Lake Titicaca, Peru
Energetic Mysteries of Peru
May 5-9, 2011
Pachacamac & Marcahuasi,
Peru
(Stand alone or extension to Andean Awakening Tour)
---
[ TRIP IS CLOSED ]


Peru 2012 - Awakening to Joy Tour
Pre-Extension: Jungles of Peru
July 13–18, 2012
6 Day Itinerary
Day 1 Friday, July 13 ARRIVE IN LIMA
Today we arrive in Lima, spending the night in a charming airport hotel to prepare for our morning flight to Cusco. (Overnight in Lima)
Day 2 Thursday, July 19 FLY TO CUSCO
We take a morning flight to Cusco - the Naval of the Universe and Center of the Incan Empire. We are

picked up at the airport and begin our journey through the Sacred Valley and into the Peruvian cloud forest; stopping at several interesting places. Our destination is Quillabamba — the small capital town of the La Convencion Province — the largest province of Cusco. Known as the City of Eternal Summer, the soil is fertile and the climate pleasant – making it ideal for agriculture especially coffee, cacao bean, many fruits and tea. With access to the Megantoni Nature Reserve and surrounded by beautiful valleys and mountains of great ecological interest, Quillababa is truly a nature-adventure paradise.
We arrive late afternoon and take time to acclimate to this new world. We definitely are off-the-beaten path for this is not a common tourist destination! (Overnight in Quillabamba) (B, L, D)
Day 3 Sunday, July 15 MADRE SELVA LODGE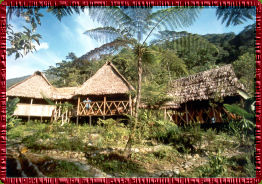 After a 40 minute drive up river from Quillabamba, we arrive at the "real" jungle and take a hike to the Madre Selva Lodge — a jungle eco-lodge — where we will be spending two nights. We learn about the history and importance of the area and take time to breath in the jungle air and listen to the sounds of this unique ecosystem — connecting us to our forgotten natural rhythms. Our bodies begin to remember this rhythm and gratefully join in.
Depending upon your soul's call, in the evening, you can continue to explore the area or choose to participate in a sacred medicine ceremony with the "vine of the soul" — Ayahuasca. We are prepared and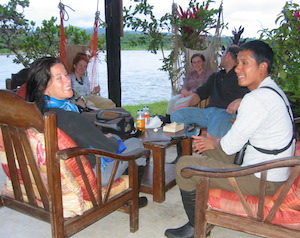 led by a special woman — Doctora Angela. She is a trained medical doctor and shaman/curandera (see her bio). (Overnight in Madre Selva Lodge) (B, L, D)
Day 4 Monday, July 16 MADRE SELVA LODGE
We continue to strengthen our connection with nature and Pachamama (Mother Earth). It is the time to fully embrace the life and sounds of the jungle for this area is home to diverse wildlife — cocks of the rocks, spectacled bears, deer, and monkeys are just a few of the forest inhabitants who may honor us with their presence. We are surrounded by a tropical paradise with flowers and jungle foliage, so bring your water shoes and let your inner child out to play! Choose between walks with our Bird-Watcher Guide, communing alone with the "lung of the Earth" jungle, bathing in one of the many waterfalls or for a small fee, participate in yoga or meditation, or massage. Whatever you choose, you begin to remember and experience your own natural vibration and rhythm.
In the evening your choice — snuggle in with the night sounds of the jungle or participate in another sacred medicine ceremony with Ayahuasca and Doctora Angela. (Overnight in Madre Selva Lodge) (B, L, D)
Day 5 Tuesday, July 17 QUILLABAMBA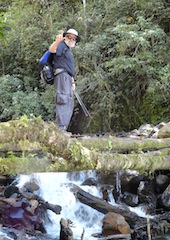 After breakfast, we walk down the river and out of the deep jungle to our bus to return to Quillabamba in time for lunch. In the afternoon, we experience the combined Andean and Amazonian culture by strolling through Quillabamba, stopping at the main square and market with some extra time to explore on your own. (Overnight in Quillabamba) (B, L, D)
Day 6 Wednesday, July 18 QUILLABAMBA to CUSCO
We breathe our last breath of velvet from the womb of the Earth and board our bus for Cusco. As we drive back through the majestic countryside, we revel in the memory of the jungle fragrances and our natural rhythms that have been restored. We take time to integrate all we have learned and experienced. We are transferred to the Taypikala Hotel and take time to adjust to the altitude and await the rest of our group who arrive tomorrow. (Overnight in Cusco at the Taypikala Hotel.) (B, L, D)