~In Mystical Peru~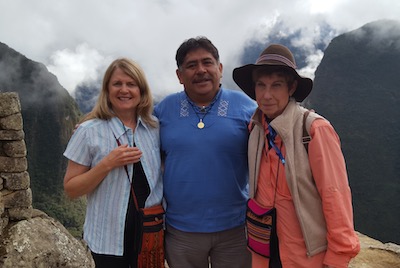 Dr Patty Luckenbach, Junia Imel
& Jorge Luis Delgado
Are you feeling connected to who you are? To your roots and ancestors? To your intuition and internal guidance system? Are you being called to deepen your connection to yourself and the Universe?
In the early 2000s, I was caught up in the chaos of life and felt lost and disconnected from myself and my tribe. Why was I here? I knew there had to be a greater purpose for me than to aimlessly go through life. Does that sound familiar? As I worked to reconnect to my intuition, I was guided to do a solo journey to Peru. Crazy, right?! Well, it took me some time to summon my courage, break through my fears and follow the call, but it was the best and most transformational decision I have ever made in my life!
Dr Patty Luckenbach joined me in 2011 for her own personal transformational journey. It was so good that she has continued to join me every couple of years to share our love and joy of Peru with others. We have found traveling with like-minded people has enhanced our journey beyond measure. So, won't you join us for the Connecting to Cosmic Wisdom in Mystical Peru tour August 13 - August 27, 2022?
Peru is the perfect place to re-connect or heighten our connection. Why? Because Peru is:
the new energetic center of the world; the ground zero of the new consciousness that has been manifesting on Earth since 2012
home to incredible indigenous wisdom that is sourced by a strong Cosmic connection and belief in love, service and wisdom
an energetic vortex where the high voltage magnetic focal points amplify every thought, dream and prayer to incalculable proportions supporting massive change
a place that embraces the 'return to the light' and a humanity that lives fully in love, peace and oneness
an opportunity to disconnect from your everyday routine so distractions and 'hucha' or dense energy are easily cleared allowing pure vision and connection to return
Why is this Divine Adventure a rare and unique experience not to be missed? We are:
guided by amazing spiritual guides – Jorge Luis Delgado, Dr Patty Luckenbach and Incan elders/shamans – that are connected to and share the immense Cosmic Wisdom needed at this extraordinary time in history
offering practices to thrive, to become catalysts for change and to transform our lives in the midst of this great, chaotic transition in our world
illuminating and embodying our higher purposes about Love, Service, and Wisdom
participating in powerful Ceremonies and sacred Initiations to open portals and connect us to the profound Cosmic Wisdom
connecting with the Ancient Ones at the Aramu Muru Interdimensional Portal – the place re-discovered by Jorge while following a dream
exploring Sacred and pristine Power Places not frequented by tourists (i.e Aramu Muru Interdimensional Portal, Altars of the Light, Soto Island, Tinajani Canyon, Tipon) and hidden Power Places within Machu Picchu, Palcoyo Rainbow Mountain and your heart
bonding with the beautiful Peruvian people and culture
traveling with FUN, like-minded people
and much, much more!!
Now is the time! Travel with us on this exclusive journey where shifts and activations to new levels of awareness occur – to a world acknowledged by many, including the Dalai Lama, as the new spiritual energy center of our planet. Together we explore our depths, rediscover our essence and build a bridge to our inner world. This adventure is more than a travelogue; it is a journey into who you are; who you are becoming; and a voyage into your soul! The Cosmic Wisdom is ready for you! Are you ready?
Join me and two amazing friends and spiritual guides – Jorge Luis Delgado and Dr. Patty Luckenbach – in the powerful, mystical Andes August 13-August 27, 2022. Jorge, a great spiritual teacher, author and chacaruna; and Dr. Patty, a spiritual beacon whose connection and dedication to our Mother Earth and indigenous cultures is unsurpassed; embody and live integrated lives. In the Inca tradition, there is no separation between the physical and spiritual worlds. Jorge and Dr Patty are experts at walking the path between both worlds. Together, we intentionally guide you on this path to Connect to Cosmic Wisdom.