Connecting to Cosmic Wisdom
Aug 13-27, 2022
Uniting Heaven & Earth
May 6-17, 2018
The Way of Mary Magdalen
Oct 1-9+, 2017
The Many Vibrant Faces of India
Jan 3-20, 2017
Energizing Your Soul in Peru
Sept 17-30, 2016
Journey into the Heart of Peru
Aug 30-Sept 11, 2016
A Journey into the Mother
Aug 23-31, 2016
Walking Home on the Camino
Sept 20-30, 2015
Communing With the Cosmos in Peru
May 6–17, 2014
Ancient Mysticism of India
January 15–30, 2014
The "REAL" Peru
September 6–20, 2013
Pilgrimage to Mexico
March 20–28, 2013
Awakening to Joy Tour
July 18-30, 2012
Awakening to Joy Tour
Pre-Extension:
Jungles of Peru
July 13-18, 2012
Return to Joy Tour
Nov. 29 - Dec. 9, 2011
Lake Titicaca, Peru
Ascension of the Light Tour
September 16-26, 2011
Lake Titicaca, Peru
Journey to the Crystal City
September 26-30, 2011
Machu Picchu & the Sacred Valley, Peru
(Stand alone or extension to Ascension of the Light Tour)
Andean Awakening Tour
May 9-21, 2011
Machu Picchu, Sacred Valley
& Lake Titicaca, Peru
Energetic Mysteries of Peru
May 5-9, 2011
Pachacamac & Marcahuasi,
Peru
(Stand alone or extension to Andean Awakening Tour)
---
[ TRIP IS CLOSED ]


Journey into the Heart of Peru
August 30-September 11, 2016
Sacred Valley & Lake Titicaca, Peru
Mile Hi Church's Travel Ministry is excited to share the news of a custom-designed spiritual pilgrimage to the sacred and ancient lands of Peru, August 30 - September 11, 2016. This unique trip is 13-days in length and includes an expansive overview of the most awe-inspiring spiritual sites of Peru, including two days at Machu Picchu, the breathtaking 15th Century Inca city built atop the Andes mountains and now considered one of the "Seven Modern Wonders of the World"; the Sacred Valley, a spiritually-energetic and lush locale; Cuzco, ancient capital of the Incas; Lake Titicaca, the highest navigable lake in the world; and much more!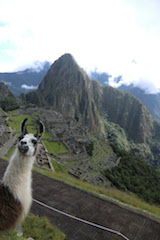 On this exclusive Mile Hi Peru journey of the heart, participants stay in four unique and deluxe hotels designed with outdoor labyrinths and spiritual artwork for morning ceremonies to greet Father Sun; enjoy heart-healthy buffet meals, an average of two included meals each day; travel by plane, train, boat, motor coach and on foot; have an opportunity to participate in service projects supporting the precious Peruvian children, wise elders, and beloved Pachamama, Mother Earth; delight in local markets featuring Peruvian crafts, and commune and connect with a group of like-minded positive souls for spiritual rituals and ceremonies facilitated by Shaman Jorge Luis Delgado and trip leadership. With the exception of transit days, participants can choose to join the group for included daily sight-seeing or stay at the hotels for personal renewal. This soul-pilgrimage is designed for a transformative, life-changing experience. Dr. Patty Luckenbach, host and spiritual leader says, "Visiting Peru is an experience of cosmic connection."
This amazing journey is open to all like minded souls. Whether you are a member of Mile Hi Church or not, you are welcome to join us on this awe inspiring pilgrimage!