Connecting to Cosmic Wisdom
Aug 13-27, 2022
Uniting Heaven & Earth
May 6-17, 2018
The Way of Mary Magdalen
Oct 1-9+, 2017
The Many Vibrant Faces of India
Jan 3-20, 2017
Energizing Your Soul in Peru
Sept 17-30, 2016
Journey into the Heart of Peru
Aug 30-Sept 11, 2016
A Journey into the Mother
Aug 23-31, 2016
Walking Home on the Camino
Sept 20-30, 2015
Communing With the Cosmos in Peru
May 6–17, 2014
Ancient Mysticism of India
January 15–30, 2014
The "REAL" Peru
September 6–20, 2013
Pilgrimage to Mexico
March 20–28, 2013
Awakening to Joy Tour
July 18-30, 2012
Awakening to Joy Tour
Pre-Extension:
Jungles of Peru
July 13-18, 2012
Return to Joy Tour
Nov. 29 - Dec. 9, 2011
Lake Titicaca, Peru
Ascension of the Light Tour
September 16-26, 2011
Lake Titicaca, Peru
Journey to the Crystal City
September 26-30, 2011
Machu Picchu & the Sacred Valley, Peru
(Stand alone or extension to Ascension of the Light Tour)
Andean Awakening Tour
May 9-21, 2011
Machu Picchu, Sacred Valley
& Lake Titicaca, Peru
Energetic Mysteries of Peru
May 5-9, 2011
Pachacamac & Marcahuasi,
Peru
(Stand alone or extension to Andean Awakening Tour)
---
[ TRIP IS CLOSED ]


Energizing Your Soul in Peru
Sept 17-30, 2016
Sacred Valley & Lake Titicaca, Peru
"When your Energy vibrates at a frequency that is in direct alignment with what the Universe has been attempting to deliver your entire life, you begin to live in the flow and true miracles start to happen." - Panache Desai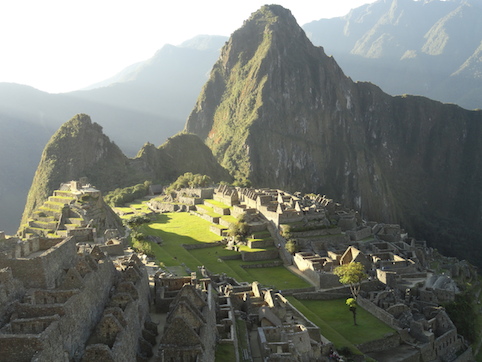 We personally invite you to re-energize your soul and shift to a higher frequency in the sacred, mystical land of Peru - September 17-30, 2016!
Guided by Jorge Luis Delgado – Peruvian mystic, teacher, & author – Julie Kremer – Universal Energy Life Coach, owner of Namaste Studio & Integral Hatha Yoga Instructor & Lily Kessler - founder of Blooming Life Yoga Studio + School & Yoga Teacher Trainer- our souls shine & express in the love & harmony of the Universe.
Through daily spiritual & simple yoga practices, our chakras open allowing a conduit of Universal energy to enter & reveal our soul's mission & life purpose. We awaken an unlimited capacity to achieve our deepest desires through a healthy, balanced & capable body. With our soul in alignment, we become 'the light of joy' radiating from our hearts into every living thing!